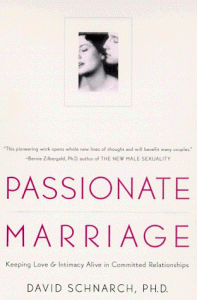 Couples' lit spotlight: Passionate Marriage: Keeping Love and Intimacy Alive in Committed Relationships, by sex/relationship therapist, David Schnarch. The book samples actual sex therapy sessions to make its case.
Don't care to read 400 pages about how differentiation?  Try the six-point plan linked from Schnarch's website, posted here minus the explanations:
Operate from the Best in Yourself.
Sustain eye contact with each other out of bed.
Try Hugging 'till Relaxed.
Make eye contact in bed.
Change your style of sexual interactions.
Pay attention to depth of involvement with your partner during sex.
Also via PassionateMarriage.com, here's a Sex in Relationships Survey, which pretty much communicates what Schnarch is aiming at while rating your sex life on a 11 – 55 scale.